Brand new Curved Aluminium Patio Door installed by Irish Door Systems in Ireland.
Our Bespoke Doors guarantee quality, and we help guide you every step of the way, from design to installation.
There are many advantages associated with our Curved Sliding Doors, for example;
Highly reliable, ensuring peace of mind for our customers.
Energy efficient.
Low running costs.
User friendly.
Available in a range of finishes, and colors.
Click on this link to see what other products we can offer you.
See the below images of the finished product: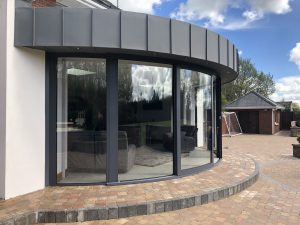 Social Share