BACK to OVERVIEW
Air Lock Al-VK
Horizontal, vertical, resistant to temperatures of -40°C or in low-oxygen environments as part of fire-prevention measures – Air Lock doors are available in a diverse range of designs and for a wide range of uses, and can be integrated effortlessly into conveyor systems.
Door leaf constructed of a core of insulation material, covered on both sides with polyester and finished all round with anodized aluminium profiles, thermal bridge-free. Equipped with a drop/lift rail system.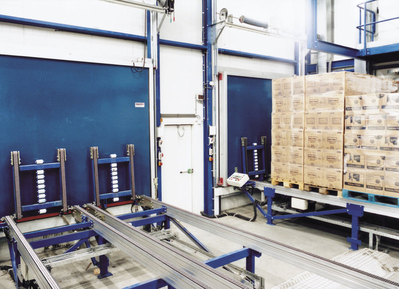 Suitable for highly-frequent use with very fast opening and closing speeds.
Various finishes and door thicknesses possible. Depending upon temperature fluctuation.
Airtight closing.
Easy to integrate into conveyor system.
Remotely readable thanks to the ethernet connection which enables problems to be traced (option).
Easy to reset in the event of a calamity.
Applicable in freezing temperatures.
Extremely reliable due to years of experience and development
Special stainless steel version possible.
Technical Data
ConstructionDoor leaf constructed of a core of insulation material, covered on both sides with 1,5mm impact-resistant glass-fibre reinforced foodsafe polyester.
Thickness Door leaf40mm, 100mm.
R-value Approx. 1,48 (m².K/W), approx. 3,7 (m².K/W)
FramingAluminium profiles, thermal bridge-free.
Colour of door leafStandard colours RAL 6010 (green), RAL 9016 (white) or RAL 5005 (blue). Door leaf finished in colour to be specified at additional price.
SealingAll round by means of rubber profiles.
ThresholdNot included. Special thresholds available upon application
Door frameAnodized aluminium profiles with a complete thermal bridge-free fit to the wall.
Frame heatingNot included. Frame heating at additional price.
Rail systemAnodized aluminium drop/lift rail system type SRA with dust cap (horizontal), galvanized guiding system with counterweights (vertical).
OperationElectrically operated at very high speeds, opening time dependant upon door size.
ControlDC 4000 Basic: standard control. DC 4000 Extended: comprehensive control with, among others, emergency stop circuit etc. (option).
OpenersInside and outside opener included (horizontal).
LocksNot included.
Additional optionsPLC via ethernet connection, remotely readable, special stainless steel version (see stainless steel documentation), finish of the clear opening etc.