Automatic Sliding Doors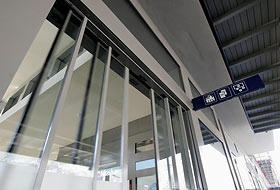 The Redefined Classic
Automatic sliding door systems provide extensive convenience and flexibility for effortless access without contact with the door. In our extensive product range you will find the right door solution for every building, whether for installation during its construction or for retro-fitting.

Linear

Telescope

 Curved

Angular
Multifunctional
Telescope Door Solutions
In the case of visible drive solutions the drive box and the linkage can be seen externally. They can be quickly connected to existing conventional doors with little effort, which makes them an ideal solution particularly for retro-fitting to doors in public buildings, for example.
Optional Areas of Use
Additional Functions
Air-lock function: two coordinated door systems control access
Access control: controlled by a key, badge, video monitoring and biometric data
Hold-up closure: on pressing a button the door closes immediately and without reversal
Building automation: incorporation into existing systems
Ideal for
Office buildings, shops, convenience stores in filling stations, apartment blocks, hotels, restaurants, care homes, hospitals, conference centres and exhibition buildings as well as innumerable other types of buildings.
Opening Types
Lightweight profile LR12

The elegant TORMAX profile for single sheet glazing, particularly suitable for internal use
Facial width 22 mm
Base height 80 mm
Profile depth 20 mm
Glass thickness 6 – 12 mm
Glazing method, wet
Toughened safety glass/laminated safety glass
Sliding leaves sealed at the top and at the sides
Safety distance ≤ 8 mm between the sliding and fixed door leaves in accordance with the CEN safety standards

Lightweight profile LR 22B

In spite of its extraordinarily compact design the lightweight frame profile section is ideally suited for insulating glass up to 23 mm in dry glazing and 28 mm in wet glazing

Facial width 30 mm
Base height 78 mm
Profile depth 34 mm
Glass thickness
– dry 8.5 – 10 mm, 21.5 – 23 mm
– wet 6 – 28 mm
Sliding leaf seals: single, all-round
Standards met: ZH 1/494prEN 12650 ≤ 8 mm between the sliding and fixed door leaves in accordance with CEN safety standards

Full-glass solution

TORMAX has developed a special and absolutely secure bolted and adhesive support for glass door leaves which disappears fully into the drive. No fixing points of any nature can be seen externally – the automatic sliding door opens as if by a ghostly hand. Yet another TORMAX contribution to an architecture which is perfection down to the last detail.

Lightweight profile LR 32THERM

Thermally separated sliding door profile LR32THERM
The thermally separated profile has a very narrow and compact design. The circumferential seals reduce the exchange of cold and warm air. This keeps costs down and protects the environment.
Visible width: 35 mm
with options: 70 mm
Base height: 85 mm
Profile depth: 40 mm
Glass thickness: 32 mm
Type of glazing: Insulating, double or triple
Sealing of the sliding door leaves: All-round, brushes and/or rubber seals
Safety distances: as per DIN 18650