Automatic Swing Doors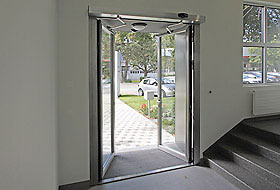 When invisible drive solutions are used, the entire automation system for the door is concealed in the floor or ceiling. The door looks like a normal swing door – neither the drive nor the linkage is visible. Invisible drive solutions are perfectly suited for every location where aesthetics have a part to play or where an automated door system provides particular convenience because of high door leaf weights.
Visible Drive Solutions

Invisible Drive Solutions
Invisible Drive Solutions
In the case of visible drive solutions the drive box and the linkage can be seen externally. They can be quickly connected to existing conventional doors with little effort, which makes them an ideal solution particularly for retro-fitting to doors in public buildings, for example.
Optional Areas of Use
Fire and smoke doors
Smoke extraction
Emergency and rescue routes
Hermetic doors
Sound-proof doors
Radiation-proof doors
Minergie doors
Barrier-free construction
Additional Functions
Push & Go
Door closing function
Air-lock and porch function
Access control
Building automation
Two programmable independent movement sequences
Unchanged movement sequence – independent of wind and temperature influences
Ideal for
Hotels, restaurants, shopping malls, shops, office buildings, hospitals, care homes, schools, theatres and concert halls.
Opening Types
Installation Position